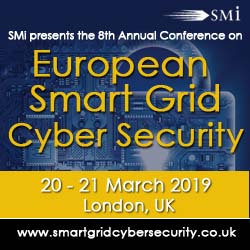 Identifying new solutions that can tackle the important elements of how to secure the smart grid
LONDON, LONDON, UNITED KINGDOM, December 18, 2018 /EINPresswire.com/ — As the UK and the rest of Europe continues to roll out further on the implementation of smart meters across the energy networks, and further introduction of smart technology, there is high risk involved. There are some who aren't addressing the issues which could have huge implications. Through presentations and discussions, the conference will bring together international leaders to identify the key risks and offer possible solutions.
Through a series of presentations and discussion sessions, senior international leaders will meet in London in March 2019 to give the latest updates and share their experiences including:
Brazilian Case Study – Cyber Security Challenges in a Developing Country
How to safeguard systems from breaches and security issues
Case studies from utility companies – updates on projects highlighting problems encountered, developments made, and solutions found
The 8th Annual Smart Grid Cyber Security Conference will take place in London on the 20 -21 January 2019.
Further information including a full speaker line-up and detailed conference agenda are available online at http://www.smartgridcybersecurity.co.uk/pr1
Neill Howard
SMi Group Ltd
+1 207-827-6000
email us here

Source: EIN Presswire